How to pause showings for a property
Updated by Maya Stern
To pause showings for a property, follow these steps:
Log in to your Showdigs account.
Select the relevant property. (Use the search option at the top to find it quickly)
Click "Pause showing"
In the pop-up window provide the relevant info: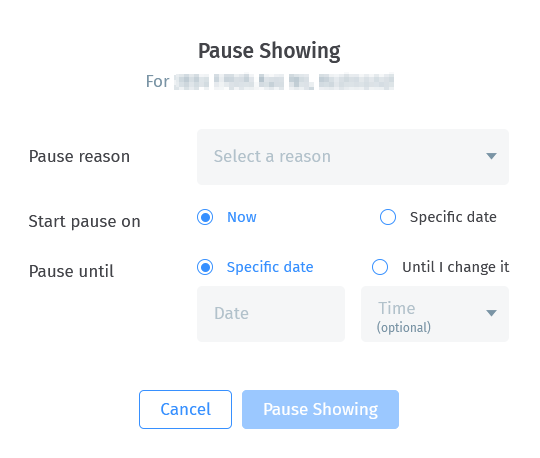 Select a reason (Example: maintenance, reviewing application). Selection a reason will help prospect to know what to expect. If no showing slots are available at all, the reason for the pause will be displayed to prospects.
Select if you'd like to start pausing now, or set it to a future dat and time.
Define the date and time for showings to be resumed
Click the action button "pause showings"
If there are planned tours within an hour, those will not be cancelled. All other leads who scheduled a tour for this property will be notified their tour was cancelled and they'll be able to reschedule for when showings resume.
Note: When showings resume, all leads who inquired about this property and didn't schedule a tour yet will get a text notification that showings are now available.